Senegal is one of the fastest growing centres for business in Sub-Saharan Africa. Its capital, Dakar, currently has two Regus properties – the SIA building in Les Almadies, the city's fast-growing business district, and Azur 15 in Le Plateau, Dakar's historical downtown area. Both locations offer a mix of office space, meeting rooms and co-working areas as well as virtual offices.
Along with his team of community managers, Area Sales Manager Madioum Dieng works hard to look after his clients and manage the two centres.
"I started out as a customer service representative back in 2016 before becoming a community manager, so I know the value of having a good relationship with clients," he explains. "In 2019, I was promoted to Area Sales Manager to bring business to the Regus centres in Senegal, but customer experience is still something that is high on my agenda. If you go the extra mile for clients, it can completely change their experience of working life."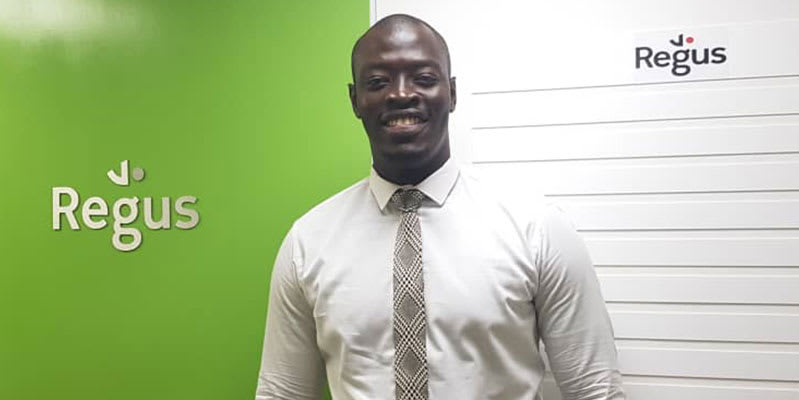 Dakar is Senegal's major business hub and the city attracts a variety of industries, from domestic food manufacturing to international energy companies.
"There are many different businesses here," says Dieng. "We have several who work in the oil and gas industry, several IT companies and we also have lots of small businesses, including startups who use our virtual offices. Our offices incorporate a lot of business people and, as Regus staff, we try to connect them and help them network, grow new opportunities and partnerships. It makes for a nice working atmosphere."
In recent years, Dakar has seen a notable rise in flexible working. "Before, they would rent a property and transform it into offices," Dieng explains. "But now businesses are attracted to a more flexible workspace and the professional environment they find in business centres such as Regus.
"And, as they spend less time managing day-to-day office functions, they are able to increase productivity and leverage our community to grow their business."
On weekends, however, Dieng takes up another role, managing young local singer Salihou. "We come from the same city in Senegal – Thiès," he explains. "I've always been a big fan of music and discovered Salihou through one of my friends, who introduced us. We met and got on well and I started to help raise awareness of his music."
In 2016, Salihou took part in The Voice Africa and reached the semi-finals. With his group, African Mystic, they play international music such as pop, jazz, Blues and Senegalese sounds. "Singers need people who can help them, have a business plan and know the good people and the right places where they can perform, and that's what I'm doing with Salihou," says Dieng. "He's developed a local following and we have several gigs lined up here in Dakar."
The key to running any successful office complex is communication, but it's a skill that also works for managing acts. "My role at Regus is full-time and, when I'm not here, I manage Salihou's singing career," says Dieng. "But it's easy to combine both when you work for a company that values flexibility. And my skills from work help me bring new business to Salihou, too."
Proving his two careers can work together, Dieng recently arranged for Salihou to perform an impromptu a capella for one of his clients on her birthday.
"The client really loved it. She even invited Salihou to her party that same night," he grins. "The community managers and I are thinking about other things we can do for our clients, similar to the birthday serenade. We have some plans in the pipeline, but they're going to be a surprise!"
Find out if Regus could be the right fit for your business