Ensuring a safe work environment
We are implementing hygiene and physical distancing measures across all our locations as recommended by local governments and the World Health Organisation (WHO) to provide our customers with a safer work environment.
Our measures include

Frequent cleaning
We have increased the frequency of cleaning during the day, focusing on high touchpoint areas, surface and workspace cleaning to meet global health and safety regulations.

Physical distancing
We have taken the principles of physical distancing and adapted them for the workplace. This includes how people move around our centres, with clear information, signage and protocols in place to ensure minimal person-to-person contact.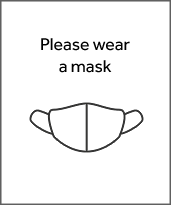 Visible signage
Our centres all have detailed health and safety guidelines on display in key strategic locations. These guidelines support and remind our visitors and customers on how to conduct business in the safest possible manner.

Support
Our dedicated global team of cleaning contractors, community managers, maintenance managers, account helpdesk coordinators, professional receptionists, IT engineers and many more are here to support you in running your business in the best and safest way possible.
Meet safely
In order to make sure that our customers can continue to use our meeting rooms in accordance with health and safety guidelines, we have established a meeting room safety protocol. This protocol encompasses the use of spaced seating arrangements to allow for physical distancing, moving around clockwise, and maintaining a safe distance for catering – all indicated with signage.
Coworking updates
Our business lounges and coworking offices have been updated with seating arrangements and signage to make sure that you can continue to work, meet and collaborate. Depending on local guidelines, business events may be cancelled at your centre. Reach out to your community team for more information.
Tours and visits
We have new tour guidelines in place, and it is possible for you to visit us and all areas of our centres, providing they are not too busy, and depending on local government health and safety guidelines.
If you have booked a tour, the community team will be informed about your visit so they can prepare accordingly.
To comply with health and safety guidelines, you will need to follow the physical distancing policy which will be explained when you arrive. We are only able to offer tours to two persons at a time. If you do have more in your group, they will be able to wait in the business lounge.
Regus access
The COVID-19 pandemic is affecting different countries in different ways. Therefore, the question of access to our centres varies depending on which country or even city you are in.
If you require more information about the status of a specific Regus centre, please contact the community team.
All our locations continue to be accessible 24/7 for customers who have their own key - with the exception of any centre that may have been temporarily closed for deep cleaning. Our teams will advise customers directly of any such closures.
We are extremely grateful to our great teams around the world for their hard work and unwavering dedication to our customers.
Health and safety guidelines
Find out how we are anticipating our workspaces and services to be cleaner, safer places to work.
Read our brochure