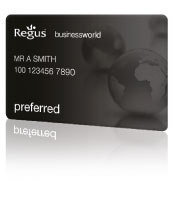 Activate your complimentary 12-month Preferred membership today to access 1,500 Regus business lounges worldwide. No matter where you need to do business, you'll have a professional place to drop in, plug in and get to work - as a Regus Businessworld Preferred member. Benefits include:
15 Free visits to 1500 drop-in global business lounges for a quiet place to work and charge your devices
Free WiFi and refreshments available at every location
Preferred member rates on ready-to-use, fully furnished offices and virtual offices
10% discount on meeting rooms, day offices and video conferencing
Two complimentary business lounge guest passes
One free day office voucher
To activate your Preferred membership, simply enter your Delta SkyMiles number and complete the personal details form.